50+ YOGA
Elizabeth Yates
Certified Yoga Instructor . Structural Yoga Therapist
50+ Class Fee: $18 per class drop-in or package rates available at a discount.
Call Elizabeth with questions at 404-210-6800 or click here to send an email.
Yoga for Seniors
Level 1
WEDNESDAYS
10:45am – 12:15 pm

Location: First Christian Church of Atlanta, 4532 LaVista Rd. Tucker 
Classical Hatha Yoga adapted for seniors. We combine breath, physical movement and energy practices to enhance flow of movement, breathing and energy level. Better balance, increased flexibility, improved concentration and circulation, mental acuity, lowered blood pressure and lowered cholesterol are positive benefits one can enjoy with regular yoga practice! Individual attention given to the needs of each student. Chair adaptations given. Bring a yoga mat and towel or blanket.
Yoga for Seniors
Level 2
FRIDAYS
11:15am – 12:45pm

Location: Mason Mill Center, 1340 McConnell Dr. Decatur
A more challenging practice that focuses on strengthening muscles and bones, increasing range of motion and increasing energy levels. Practice a sequence of yoga poses proven to strengthen bones and muscles by holding poses with increased attention to proper muscular engagement. Breath practices strengthen the respiratory system which directly influences and enhances energy levels. Specific attention is given to yoga poses that improve posture and balance to reduce the risk of falls and fractures. Practice is appropriate for all levels of practitioner and enhances bone and muscles strength at any age. Bring a mat and blanket or towel.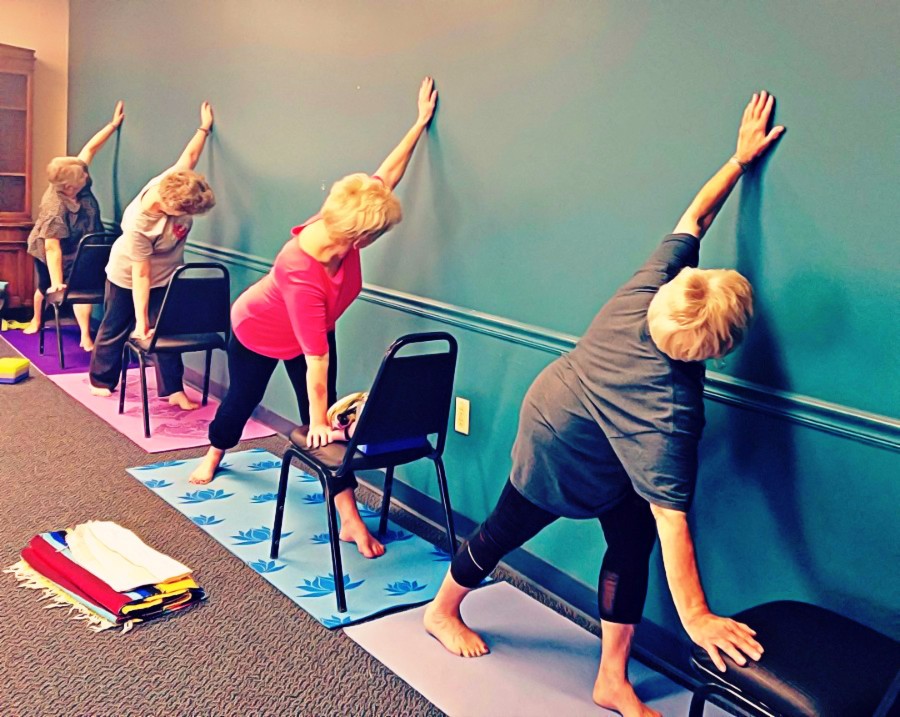 "We don't stop playing because we grow old.
We grow old because we stop playing."
-George Bernard Shaw
GENTLE BASICS YOGA
Elizabeth Yates
Certified Yoga Instructor . Structural Yoga Therapist
Gentle Basics
Wednesdays
5:15pm – 6:30 pm

Location: Agnes Scott College
Yoga practice focused on deep stress relief. Unwind tension in the body utilizing gentle, subtle movements that restore awareness and vitality. Increase energy levels using time tested breathing techniques that strengthen the respiratory system and calm the nervous system. The results are a body and mind mentally alert yet deeply relaxed. Class concludes with deep relaxation in Savasana. All ages welcome.